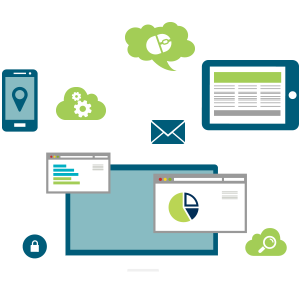 Responsive Website Design Company
Maximise Your Reach with Responsive Website Design Company. We build fully responsive websites with outstanding design and intelligent User Interface
The revolutionary electronic gadgetry releases and its popularity have significantly affected the website design industry. Today, more and more people are using their Smartphone to browse the web than their desktop. To address this radical and fast-evolving shift of Internet users, it is crucial to upgrade your traditional website with a Responsive Website Design Company.
Responsive Website Design Company is a device-independent User Interface that has the capability to deliver a well-optimized web experience on all devices, irrespective of screen width and resolution. The technology is being widely used by website designers today to code the style sheets of a site in a way that the layout adjusts magically to provide a more comfortable and optimized fit as per the width and resolution of the browser in which it is being viewed.
Responsive Website Design Company with Creative Futuristic Responsive Web Techniques that Boost Your Business.
One Website Design for Multiple Devices
No more creating separate designs to cater to technical specifications of different devices. Our responsive web development company can deliver a single easy to navigate, well optimised, user friendly design for all devices.
Maximise Your Web Presence
We create stunning responsive web design that lets you maximise your target audience from desktop users to fast-growing Smartphone users. Increase your website traffic manifold.
HTML5 and CSS3 Technologies
Our designers leverage HTML5 and CSS3 technology to build visually stunning and user friendly responsive website design.
User Friendly and easy to navigate

HikeBranding is a professional responsive web development company that focuses on building visually appealing, user friendly and easy to navigate web designs for all devices. The layout is created such that it automatically adjusts to the device's screen width and resolution, and provides best view and navigation.
No Duplicate Web Content
No duplicate content for your desktop and mobile website; no need to create unique content for individual sites. With responsive design, the standardised content is viewed on all devices.
Lower Costs
You have to design, develop, market and maintain only one website that will target all your audiences, thereby minimising your operating costs.
At HikeBranding, we not only offer responsive web development services, but can also modify a traditional website and make it responsive. Our team of designers have the right tools and technology to make your sit more accessible across all devices – flexible grid-based web layout, media queries, flexible media and images, etc.
43
Successful Content Strategies