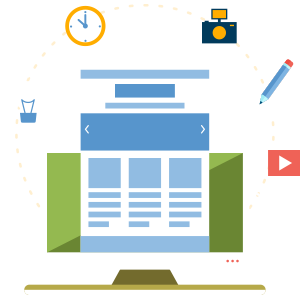 Professional PSD to HTML Conversion at Affordable Costs
We can convert your PSD designs into 100% hand-coded, W3C validated, cross browser compatible, pixel-perfect HTML/XHTML/HTML5 markup.
HTML or HTML5 is the most popularly used markup languages today. PSD to HTML conversion Services is an integral part of website design and development, which involves converting Photoshop designs into pixel-perfect, W3C validated HTML code. HikeBranding is a leading PSD to HTML Conversion Company, offering end-to-end solutions that always meet our clients' expectations.
Content Marketing is an effective way to encourage conversions and its main objective is to build a content strategy which meets the needs of your target audience. It helps you to stand out from the competition and provides a great resource to your customers and is highly shareable. Content Marketing is meant to improve your brand profile and online reputation.
HTML5 Coded, Fully W3C Compliant, Cross Browser Compatible.
Cross-Browser Compatibility
We convert PSD to HTML, which becomes an integrated solution for cross browser compatibility. The files can be accessed on any browser with the same interface.
W3C Validated
Our expert programmers create hand-coded websites that undergo strict W3C validation parameters. It helps to remove errors in coding, if any, and ensures high page ranking in search engine results.
100% Hand Coded
To avoid technical errors, our programmers practice 100% hand coding to create pixel-perfect HTML designs and enhance the performance of your website.
Hire HTML Developers
Gain authority in your industry or business by sharing comments from your industry experts. Share their expertise and you will immediately see the feedback from your audience.
Improved Website Speed and Navigation
Our PSD to HTML conversion process has a well-categorized structure that improves the speed and navigation of the website. CSS files reduce load time and increase website speed.
Optimized HTML and CSS Codes
Our experts use 100% optimized HTML and CSS codes to improve performance of the website and minimize coding redundancies.
43
Successful Content Strategies
HikeBranding is available 24/7 to provide expert PSD to HTML conversion services at an affordable cost. For cost-effective and professional services, call us today.
At HikeBranding, we accept designs in different formats like PDF, JPG, TIF, BMP, TIF, GIF, etc. Our experts will first analyse the design and then slice the images to convert PSD to HTML. To avoid technical errors, we use only pixel-perfect hand coding and create responsive designs that enable the website to be accessed across different platforms, keeping the look and feel intact.
Responsive HTML designs not only reduce the cost of website development, but also make it easier to maintain and manage a single website for different platforms, which can be optimized easily and managed through a single administrative interface. Once it is done, we will upload the template on password-protected server and send you the link. You pay for the template and we provide you the source file on complete satisfaction. Interested?
Contact us
today.
Tell us about your project
Let us help you get your business online and grow it with passion
With an experienced team of developers and design specialists, we follow a well-laid development process. Get ready to promote your business online with a website that not just looks great, but is loved by your target audience.
We have been working with HikeBranding since 1 year and I hope our cooperation will last much longer. They are professional, know their job, very on time and always responsive.

Greg G
Blue Eye Picture - Founder
I have worked with dozens of online service providers, specifically in web design, databases and php and have had nothing but challenges. Team is quick, communicates well and delivers great work on time and in budget . They are my top contact who I will only work with.

Ivin V
CEO at Intoweb Ministries
Team HikeBranding is a professionist in web development. They are serious and professional and we have often cooperated for important projects.

Stefania H
SalusBank System