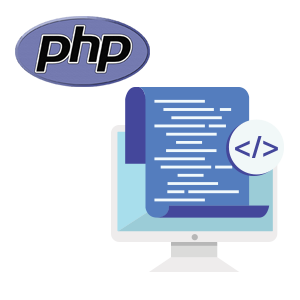 PHP Web Development Company
Result-driven custom PHP Web Development Company to deliver reliable and robust websites and applications with more functionalities and features.
PHP is one of the most widely used web development programming languages today. It ensures greater reliability, superior performance, and platform-independent web development architecture to design and develop websites and apps that are scalable, robust and intuitive. PHP can be easily customised to seamlessly work with popularly used database like MySQL, provides multilingual support, ensures fast and simple maintenance and is fully compatible with different operating systems like Linux, Windows, UNIX, etc.
HikeBranding is a premier PHP Web Development Company that offer tailor-made solutions to build robust websites and flexible applications that provide more functionalities and features to your customers. We specialize in custom PHP Web Development Company and leverage LAMP (Linux Apache MySQL PHP) technology to power top-notch websites and web applications, catering to unique client requirements and helping them achieve their business objectives.
Agile Methodologies...Result-Driven Solutions...Dedicated PHP Developers.
Comprehensive PHP Development Services
Being a top PHP Web Development Company, we offer end-to-end solutions like PHP Web Development Company, PHP based CMS development, PHP/MySQL development, E-commerce development, corporate website development, web application development, Open Source CMS solution, custom PHP programming, and portal development solutions.
Fast and Efficient Data Processing
At HikeBranding, we ensure that our clients leverage the full potential of PHP. Our PHP developers facilitate prompt and efficient data processing and compatibility with various Operating Systems by developing a reliable website.
High Security
Our PHP-based websites and web applications are coded with MVC architecture to protect them against any security threat or malicious activities on the Internet.
Fully Compatible PHP Solutions
Our experienced PHP developers efficiently hand code the websites and applications to deliver high-end scalability, flexibility and database support. This ensures no compatibility issues with any existing web program or module.
W3C Validated
Our PHP web development company is expert in building and deploying web pages – both dynamic and static – that are strictly W3C validated.
Affordable Pricing
We offer the best PHP web development solutions at most competitive pricing. Our services come with performance guarantee by catering to specific client requirements.
Need PHP Developers? Contact Us.
If you need to hire dedicated PHP developers for your next project or outsource PHP development services on continuous basis, get in touch with HikeBranding today. We are experts in handling everything from design to development to deployment, testing and maintenance.
25
E-commerce orientated solutions
12
Websites for TOP 500 companies
17
Complex intranets for corparations
97
Popular facebook applications 
74
E-mail marketing strategies
36
Experiences Web Development Ninjas 
Tell us about your project
Let us help you get your business online and grow it with passion
With an experienced team of developers and design specialists, we follow a well-laid development process. Get ready to promote your business online with a website that not just looks great, but is loved by your target audience.
We have been working with HikeBranding since 1 year and I hope our cooperation will last much longer. They are professional, know their job, very on time and always responsive.

Greg G
Blue Eye Picture - Founder
I have worked with dozens of online service providers, specifically in web design, databases and php and have had nothing but challenges. Team is quick, communicates well and delivers great work on time and in budget . They are my top contact who I will only work with.

Ivin V
CEO at Intoweb Ministries
Team HikeBranding is a professionist in web development. They are serious and professional and we have often cooperated for important projects.

Stefania H
SalusBank System