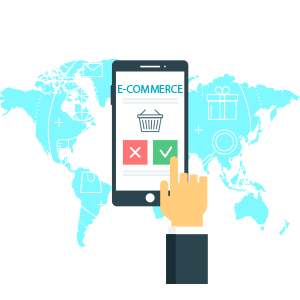 E-Commerce Website Design
We transform unique selling ideas of businesses globally into simple and engaging Ecommerce models that make online shopping fun and hassle-free for customers.
Have a unique selling proposition? Transform it into outstanding ecommerce website design with HikeBranding. We offer customised ecommerce web design solutions that deliver the maximum value to our clients in terms of flexibility, functionality and robustness. With our expert team of ecommerce web designers, we can identify the right Open Source model that suits your selling needs and then implement it with efficiency after customising every aspect – right from custom theme development to template design and module integration to shopping cart customisation as per your requirements.
We are a leading ecommerce web design company that is well-versed with a wide range of ecommerce platforms like Magento, Shopify, PrestaShop, CS-Cart, X-Cart, Bigcommerce, osCommerce, FoxyCart, Pinnacle Cart, WooCommerce and Drupal Commerce. Our team of PHP programmers have vast experience in building specific modules, user friendly shopping cart software and custom extensions by integrating latest ecommerce design themes and 3rd party technologies.
Customised Ecommerce Website Design to Promote Your Brand, Improve Sales and Bring Success
100% Customised Ecommerce Website
Boost your online sales with our outstanding ecommerce website designs and templates. Our comprehensive web design services ensure that the templates are fully tailored to meet your unique needs.
Excellent User Experience
From spectacular home page design templates and elaborative product page to one-click checkout process, our ecommerce website design company delivers brilliant user experience to attract and engage your customers.
Responsive Design Themes
Create responsive ecommerce websites with us; allow your customers to access your web portal from anywhere, anytime. We ensure that your website is compatible and optimised for all screen sizes and resolution.
Effective User Interface
Our ecommerce web designers create superb user interface, comprising of diverse features like search option, wish list, add to cart, favourites, easy checkout and more.
Search Engine Optimisation
With onsite SEO-friendly and optimisation architecture, our ecommerce stores enjoy maximum online visibility and drive organic traffic.
End-to-end Ecommerce Website Design Services
From custom ecommerce website design to building responsive web portals, shopping cart development and plug-in & module designing, our end-to-end design services are customised to meet your needs.
43
Successful Content Strategies
Ecommerce website development is the next BIG thing in the digital world. For any merchant to be successful, it is crucial to maximise its reach by creating a web portal that showcases products and services in the most effective manner, improves user experience and drive sales.
Tell us about your project
Let us help you get your business online and grow it with passion
With an experienced team of developers and design specialists, we follow a well-laid development process. Get ready to promote your business online with a website that not just looks great, but is loved by your target audience.
We have been working with HikeBranding since 1 year and I hope our cooperation will last much longer. They are professional, know their job, very on time and always responsive.

Greg G
Blue Eye Picture - Founder
I have worked with dozens of online service providers, specifically in web design, databases and php and have had nothing but challenges. Team is quick, communicates well and delivers great work on time and in budget . They are my top contact who I will only work with.

Ivin V
CEO at Intoweb Ministries
Team HikeBranding is a professionist in web development. They are serious and professional and we have often cooperated for important projects.

Stefania H
SalusBank System