Now get the razor-sharp competitive edge over your competitors on the online marketing platform by creating a truly functional and aesthetically appealing website interface with HikeBranding.
Hike your Brand with Responsive Website
HTML5
CSS3
JS
jQuery
Create an intuitive eCommerce website interface with an appealing graphical interface as well as functional tabs that allow your customers to check out the new products on your website easily. Compete with the market leaders with a re-designed website interface.
eCommerce for Business
Shopify
Woocommerce
Magento
Although we are new to this field, we have already established ourselves as one of the fastest growing web development companies. With award winning capabilities like hard work, customer representation and innovative thinking, we have a big hand in revolutionizing the web development industry.
Award Winning Web Design Company
Wholesome Web Development/Designing Experience
Website Designing and Development Experts
Business

Create a true brand value for your business with an intuitive website interface.
Startup

Give your Startup the necessary platform for recognition in the long run.
Entrepreneurs
Display your entrepreneurial skills to the whole world with an aesthetically beautiful website.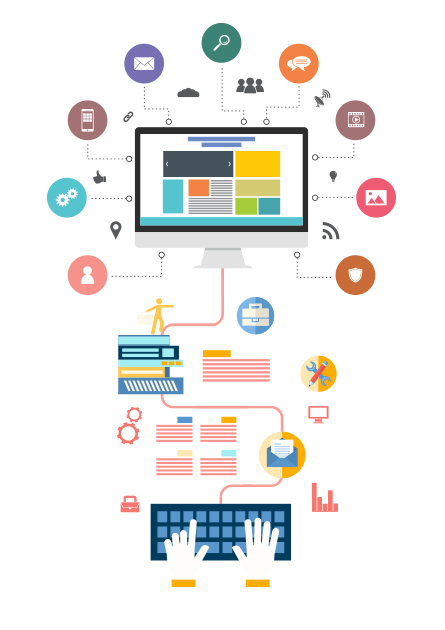 Why HikeBranding ?
We are a small team of 40+ dedicated individuals looking forward to making our mark in the world. We have our characters placed in the ethics of quality management, punctuality, and affordability.
An unwavering faith and reliance on the concepts of punctuality and productivity of time and cost.
Delivering high-quality work on every project.
Transparent communication with client to finish the task exactly as per the requirements.
Expertise & Experienced
Our small team has a several years' worth of combined experience allowing us to work in sync with the project requirements and clients. We have the necessary formal education in the field of website development and design to help you with your project.
Client Satisfaciton

Client Satisfaction is our ultimate goal and we work in close sync with our clients to fulfil their needs. We make our client an integral part of the process allowing us to deliver work that is closely associated with the formal requirements.
  Affordable Cost

With affordable pricing structure at Hike Branding, you do not need to invest a lot in the web development projects. Instead, you can now focus your resources on product/service development while we handle your marketing needs.
Friendly Customer Represntation

We host a team of friendly customer representatives that stay in constant touch with our clients to ensure that an open two-way transparent communication channel allows us to understand your needs better.
Productive Task Handling Skills
With productive task handling skills, we can optimize your website according to the time and budget to make it intuitive, truly functional and aesthetically appealing. We strongly believe in delivering work before the deadline and respect our clients' time.
Extended Support
We aim to build a progressive relationship with all our clients to help them as well as ourselves grow. With extended 24 x 7 support, your website will never face any lag due to the excessive traffic of potential customers.
Wholesome Web Development/Designing Experience
Website Designing and Development Experts

Greg G
Blue Eye Picture - Founder
We have been working with HikeBranding since 1 year and I hope our cooperation will last much longer. They are professional, know their job, very on time and always responsive.

Ivin V
CEO at Intoweb Ministries
I have worked with dozens of online service providers, specifically in web design, databases and php and have had nothing but challenges. Team is quick, communicates well and delivers great work on time and in budget . They are my top contact who I will only work with.

Stefania H
SalusBank System
Team HikeBranding is a professionist in web development. They are serious and professional and we have often cooperated for important projects.